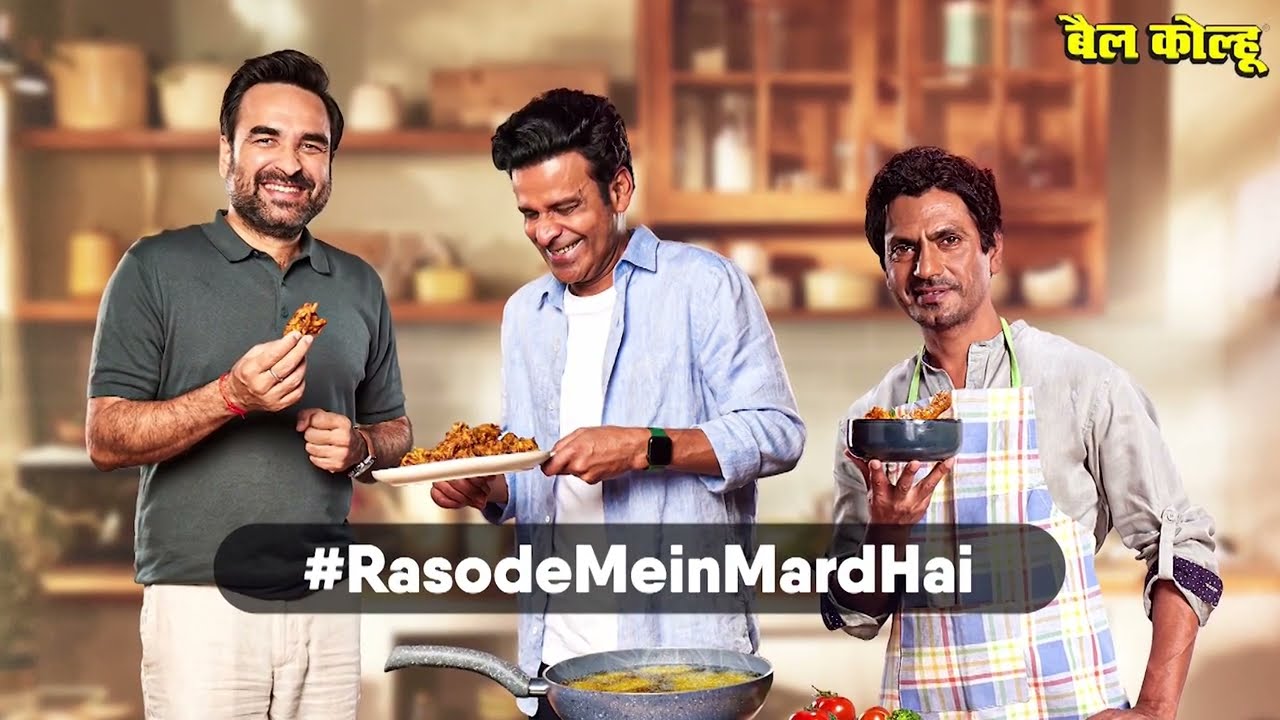 Leads Brand Connect Case Study - Rasode Mein Mard Hai
Rasode Mein Mard Hai Campaign - Leads Brand Connect Case Study
Client:
Bail Kolhu – a renowned mustard oil brand from BL AGRO
The brief:
Create not just another marketing campaign, rather pick on a social agenda
Thought Process:
Leads Brand Connect had been long associated with Bail Kolhu for its social media presence.
Before reaching Rasode Mein Mard Hai, the idea began with its new TVC – Swad Se SamjhautaNahi starring Manoj Bajpayee, Pankaj Tripathi and Nawazuddin Siddiqui.
Through its TVCs and the latest TVC being a thunderclap by the viewers, Leads Brand Connect initiated something not seen with most cooking oil brands - 3 male stars cooking in the kitchen.
While the primary message was not compromising on taste and quality, the advert was deeper, using a "show-not-tell'' idea to advocate the revolutionary concept #RasodeMeinMardHai, i.e., that even men must shoulder kitchen responsibilities along with women.
The team came up with an extremely unconventional but necessary concept of breaking the stereotype that is often represented in advertisement.
Organic Trending Views Rasode Mein Mard Hai Solution: In a day and age when women are as a basic rule expected to be the ones running the show when it comes to household chores especially the kitchen, here was a brand changing this notion.
Through the TVC that had already been making headlines for its story line, we identified a problem that did not need rocket science understanding – it was an issue we've all grown up watching in our homes.
Radha khanapakaatihai aur raam sabzi laatahai - a very normal textbook understanding seen around us. Women cooking in the kitchen when men hesitate to participate in a duty that must belong to all and not to any specific gender, we were determined to put this to an end.
The TVC was launched through a press conference with brand ambassador Pankaj Tripathi, and while discussing the concept we amplified a parallel thought Rasode Mein Mard Hai. A campaign soon to become a news worthy sensation.
With the press conference, Pankaj Tripathi urged the media to begin posting selfies of themselves or the men in their households on the website created specifically around this issue.
Campaign Instagram Engagement We built up the social media space with posts, videos and write ups. Our posts talked about basic comparisons through hands and food, statements like Suresh aajkhanaachabanahai, with impactful videos of most commonly heard statements, and celeb insights through the TVC on how they've found it quite normal to be cooking and partaking in kitchen duties.
YouTube was thoroughly promoted with micro videos that developed the thought further.
Leads Brand Connect also understood how it was a norm to have women in the kitchen as what was seen through the generations. Which is why, our focus was not limited to just audiences via media. We decided to bring the issue to the youth by creating this as a conversation across colleges through Delhi/NCR. By engaging the youth, we strategically began a systematic change in the upbringing ideologies across Indian homes.
Social voices through on ground activities, reinstated the thought with women, men, children, young and old - collectively engaged in contemplating about how through years and years of the same environment it was so normal to say statements like "aaj mummy ne khanemeinkyabhejahai" but never a question or statement you'd expect for the 'papa'.
To extend a TVC beyond a certain shelf life is not easy, but we took it up as a challenge for our personal belief in the concept and amplified the buzz around a pressing issue such as this through radio integration. Our RJs were sharing their own stories, getting on air and vocal about why this was a discussion that needed to be shared.
Through all this media was quite instrumental in making the campaign such a success. The press launch of the TVC with Pankaj Tripathi was magnified across prominent newspapers both mainstream and vernacular. Once the event was launched, the media was constantly overwhelmed with news articles and press releases all intensifying the issue.
For a defining change in thought especially from a brand like Bail Kolhu that holds the status of a legend across UP/Bihar, the campaign was a 'cannot be missed' for all the right reasons. Initiative Persistence and patience were our 3 driving forces.
We decided to normalize and popularize this thought on a mass level which is today Rasode Mein Mard Hai - Pankaj Tripathi, Manoj Bajpayee and Nawazuddin Siddiqui being the perfect megaphones for the concept.
The campaign was an in-house collaborative effort of the creative, production and media team from concept to film production.
From a press conference with Pankaj Tripathi to initiate the conversation, to reaching on ground to understand what the general public thinks about the issue, the campaign led to a ripple effect with people from varied walks of life and interests speaking on the issue.
Rasode Mein Mard Hai Traffic Analysis
Result:
While the women were applauding, we found that most men did understand the importance of the concept and extended their support to the cause. It was a thought waiting to come out of the box. The initiation had begun and now it's only time, that through the campaign we reach the root levels to get a social change in the functioning of Indian homes. By talking about such an issue Leads Brand Connect for Bail Kolhu was geared up to bring a functional change.